Soft Washing Cleaning & Sanitizing in Columbus, Ohio
Soft Wash Cleaning Services
Fungus and bacteria are not just an aesthetics issue. These microorganisms are actually eating and decomposing your surfaces at an alarming rate. A soft washing system cleans your surfaces and kills all of the fungus growing on them, providing superior results that last 4 to 6 times longer than pressure washing. 
Soft washing helps to preserve the value of your property 
Curb appeal is an important factor when it comes to what home buyers are looking for. Having your home professionally soft washed will remove any unsightly dirt, mold, or mildew that may be growing on it, restoring your home's exterior to a like-new condition. Soft washing helps you freshen up and preserve your home's appearance, and will become a major value to potential buyers.
Soft washing helps to prevent permanent damage on your property
Have you ever noticed that your siding or roof has a green tint or might look extra dirty at the end of a long winter? This is likely due to the buildup of mold, mildew, moss, and algae on those outdoor surfaces. These substances can flourish in winter weather conditions, thanks to the often damp weather. Any accumulated dirt can also help create ideal conditions for them to grow during the season.
They can grow on just about any surface, especially roofs and siding, including wood, vinyl, stucco, and more. A good cleaning, especially before the winter weather hits, can help prevent it from taking hold.
Soft washing can help keep you safe
Much of the dirt, dust, mold, and other allergen materials that accumulate in certain areas of your property and roof are ending up in your home. These things can cause serious health issues to you and your family, and cost you tens of thousands of dollars to repair.
Fungi and mold are bad for our health, but they can be even more dangerous to young children or individuals who suffer from asthma and respiratory problems. If these mold particles spread into your window frames or air ducts, they can eventually spread throughout your home and create a polluted environment. Soft washing your home will kill these unwanted bacteria, and provide a more healthy, comfortable living environment. 
Soft washing helps to prepare surfaces to be worked on
Soft washing is the best way to clean and prepare surfaces, such as decks or exterior walls, for painting, refinishing, or staining. It also ensures that hard-to-reach areas within crevices and cracks are thoroughly cleaned.
Soft washing is a more eco-friendly cleaning option
Pressure washers utilize from 3 to 8 gallons of water per minute (gpm). In one hour of cleaning, a power washer can use from 180 gallons upwards to 480 gallons of water. Conversely, soft washing only uses approximately 60 gallons of cleaning solution, which consists of about 40 gallons of water.
Oftentimes, people hesitate when they hear the word "chemicals," however it's really not such a dirty word. In reality, everything is a chemical, even water (hydrogen dioxide).
The chemicals utilized in soft washing help break down contaminants and infestations, so they can be quickly rinsed away. They do all the work without all the pressure. Our chemicals are water-based, ship non-hazardous, and are biodegradable, meaning they break down into carbon and water within twenty (20) days of their introduction into the environment; leaving no contaminants behind.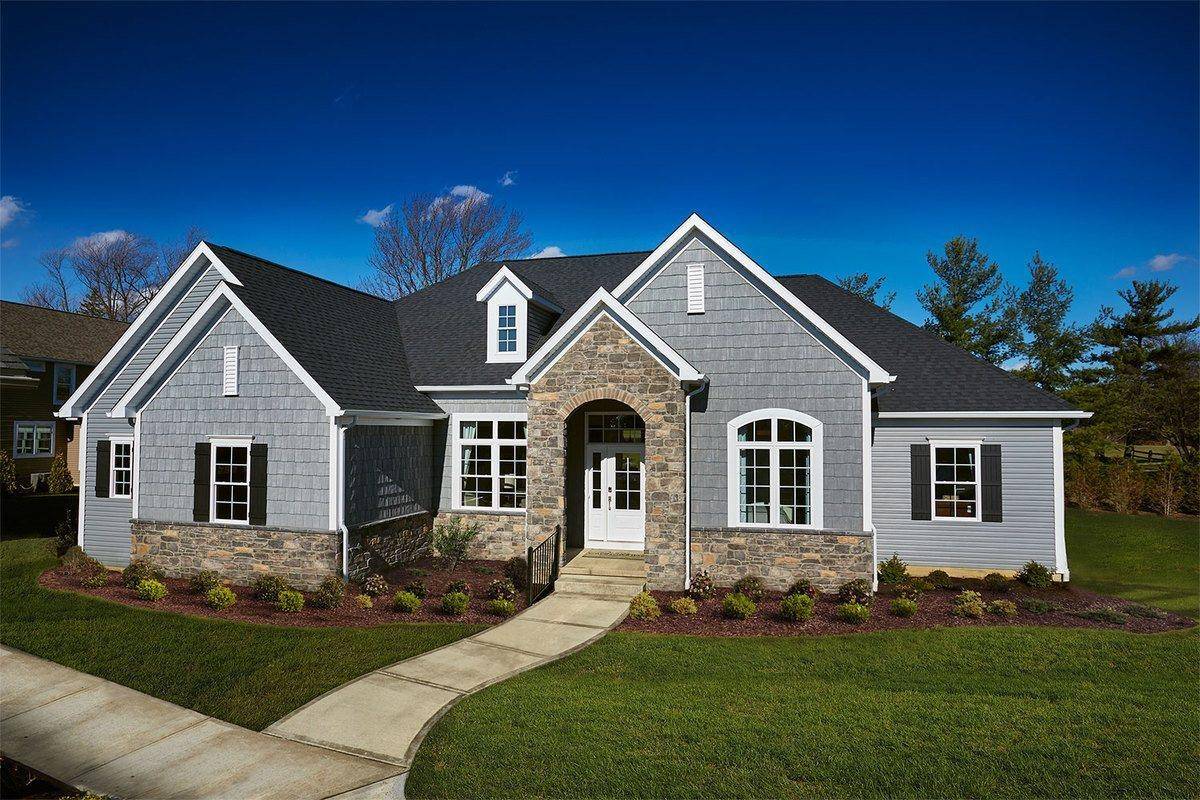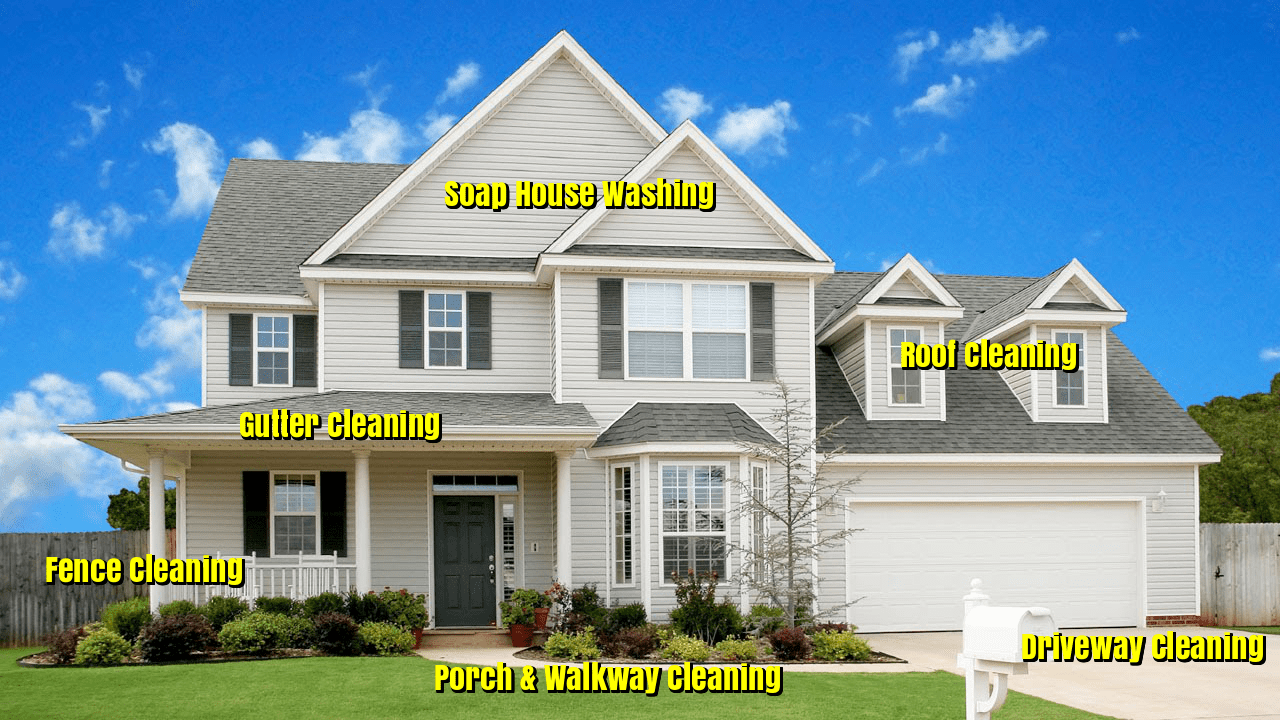 Full 1
Proudly Serving Central Ohio
THE FIRST TIME - GUARANTEED
Full 2
BELIEVING IS SEEING AND
SEEING IS BELIEVING
Full 1
Professional Exterior Cleaning Services
Soft washing is a cleaning method that uses a low pressure washing technique, along with a mixture of algaecides, bleach, surfactants and water, to safely clean exterior surfaces of organic stains, mildew and algae.
Most dirt and discolorations on properties is organic growth from carbon or bio film. Scientifically this can be treated to halt the growth at the root leaving a fresh and clean look and feel to the building.
WHY SHOULD WE USE
SOFTWASHING
Softwashing uses only one-third of the water that pressure or power washing does, lasts 4 – 6 times longer, and doesn't erode or damage the surface like power washing often can.
Softwashing uses water-based, biodegradable chemicals to break down dirt and grime, eliminate bug nests and webs, and kill mold, mildew, algae, and bacteria – leaving the surface clean and sanitized. 
Softwashing also does far more than pressure washing because it does more than simply clean your surfaces. The products utilized in our Soft Wash System don't just tidy; they penetrate, sanitize, and eliminate the root of the issue. 
Softwashing your roof or other surfaces is more like insect control – the mix of safe, eco-friendly chemicals ensures that the microorganisms that create buildup are not just partially swept away, but eradicated. 
Soft-Washing Yields the Best Results
Since our unique cleaning method kills the growth spores of the bacteria, our cleanings will typically last much longer than those that utilize high pressure. This means you get to enjoy the beauty of your investment even longer and spend less time making phone calls and paying money to pressure washing companies! In fact, we are so confident in our service that some of our services our covered by a 2 YEAR WARRANTY. We challenge you to find another company willing to offer such coverage!
We offer high-quality power washing & soft washing services in Columbus, Ohio. Why spend more if you can get high quality services at a really affordable price.
A Professional Exterior Cleaning service provider can be very convenient for a person that desires to hire one. Hire us and we will make sure that your money won't go to waste.
Our knowledge and experience give our customers peace of mind as well as satisfaction in each service we provide with guaranteed high quality results.
SCHEDULE A SOFTWASH CLEANING
TODAY
We Provide the Best Solutions for Exterior Cleaning in Central Ohio!
Schedule Your Residential Exterior Cleaning Services Today!
We guarantee 100% satisfaction or your money back!
We stand behind our work 100%. Our job is not finished until you are totally satisfied.
Our business does well year after year only by making each client so satisfied that they would hire us again, and recommend us to their family, friends and neighbors. We only accomplish this by completing your project perfectly to your satisfaction.
We are proud members with an excellent rating with the Better Business Bureau, and are happy to supply references at your request.
The founders of Ohio Power Washing are born and raised in Central Ohio. Our family and friends live here. We go to church here. Our kids probably play little league with yours. We have nothing without our reputation, so quality and your satisfaction are our only priority.